For Newbie: How Do You Use Sex Dolls?
As a doll lover, dressing for your doll is a daily task, so you must learn the skill. Dress her in a sportswear today, swimsuit tomorrow, and so on. When you choose very fashionable clothes for sex dolls, you need to pay attention to the size of the clothes. Because love dolls are close to the perfect shape body, so we usually choose small and medium size for her. Dressing also requires some skills. When wearing a underwear, you need to lie flat with the doll, bending the knees and aligning with the crotch. Put underwear on thighs, raise her hips and pull it up. Wearing stockings for a doll in the same position will be very smooth. Dressing  for your doll can be a little tedious at first, but for a long time, many doll owners think it's an interesting thing.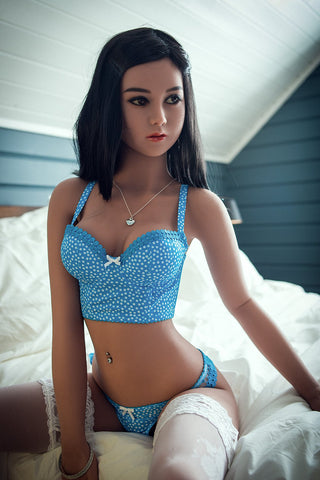 Take a bath
The feeling of staying with loved ones is very special. That's the way to cure the fatigue of a hard day's work by staying with your love doll. How does it feel to have sex with a doll in the bathtub? It's quite different from being in bed. It has a different feeling than usual.
After bathing, please wipe and spread baby powder all over her body. And do not get water into the doll neck metal connectors, which may cause rust in the water inside the doll skeleton.
Also, the feet of the standing doll are also metal. Please dry them well.
Sleep with your doll
After all, Sex with dolls is an unavoidable topic. Please enjoy with a love doll while leaving the normal position, back, sex, facial cumshots, oral (mouth) dressed to play (cosplay) desire. MN DOLL sells sex dolls made of TPE and silicone.Tpe love doll feels softer, while small doll feels tighter. You can also experience for yourself the differences between the two materials.
After a twist, you can sleep with her in your arms, with her hands in your hands, or even with her breasts. It's better to heat love dolls with an electric blanket in winter. Vagina USB heating rod is also very convenient to use.
Taking photos
Another great pleasure for sex doll enthusiasts is taking pictures of dolls. Like a gentle man who guards his girlfriend, he peeps at his girlfriend through the camera. This is another kind of pleasure. Buy new clothes for the doll, choose new wigs, pose for the doll, and then take pictures. If the model is good, pressing the fingertip of the shutter will be more exciting.
If it's spring, it's under the tree. Summer, on the beach, with sunglasses and straw hats. In fall, they went to the red mountain to appreciate the red leaves. In winter, go skiing with dolls. If you take some inadvertent scenery in daily life, it will surely become a lovely memory.